Septic Tank Services In Hertfordshire
24 Hour Call Out, 365 Days A Year, Emergency Attendance Available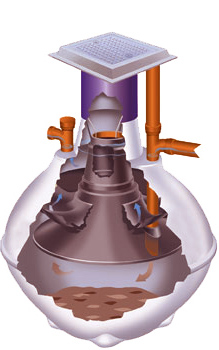 Our Hertfordshire septic tank engineers install, repair, service and replace all types of septic tank systems throughout the Hertfordshire Area. If your septic tank is emitting a foul odour or discharging waste it is in need of urgent attention. The septic tank contains raw sewage and is designed to retain gross waste only. Septic tanks should not be the source of any pollution and must be registered with the Environment Agency.
If you are concerned that your septic tank might need repairs or you need a new septic tank installed, we can provide help! We offer solutions for issues with ball detachment, baffle Collapse, baffle tear, baffle rip and man hole cover replacement.
There are some scenarios where we can also improve the quality of your final effluent by upgrading your existing septic tank system. Septic Tank upgrade and conversion can save you a substantial amount of money in the long run, improving the quality and efficiency of your septic tank. We are experts in the field of septic tank performance improvement and septic tank maintenance.
Call now and book an engineer!
COMMERCIAL / RESIDENTIAL REPAIRS, REPLACEMENTS AND INSTALLATIONS
We provide residential and commercial pump, drain and sewage solutions. Call us now on
Emergency 24/7: 0345 366 5803
Our team of engineers specialise in mains and private drainage systems, emergency flood attendance, sewage pumps installation, septic tanks, drainage pumps, water pumps, CCTV inspection, survey, waste pumps, tank conversions, high pressure water jetting services, cesspits, sewage treatment plants, blocked drain cleaning, liquid waste disposal, flood prevention, flood defences, soak away, land drainage systems, liquid waste removal, maintenance, installation, emptying, servicing, repairs and sales throughout Hertfordshire and the surrounding areas. We also provide repairs for septic tanks, septic tank inspection and installation of new septic tank systems.